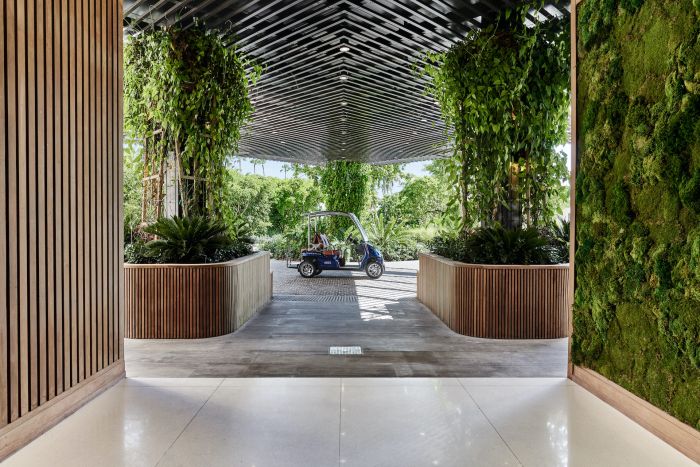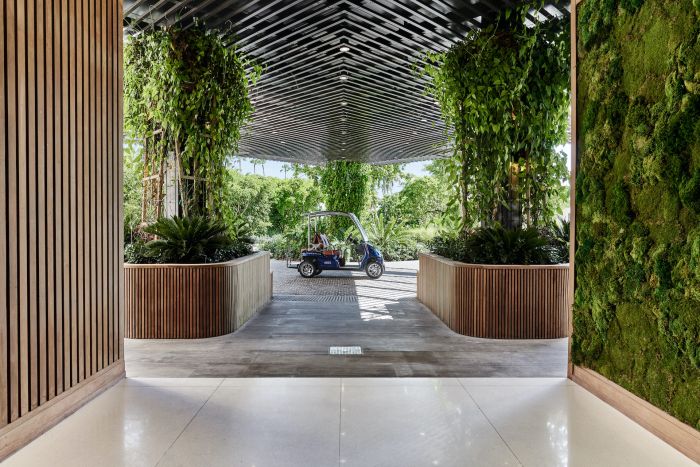 Palazzo Della Luna
For years, the customary approach to architectural design tended to treat building and landscape architecture as two separate entities. Over time, such a dissociation – defining a strict difference between indoor and outdoor living has impacted, often in negative ways, both human beings and their natural environment. But the emerging trend of biophilic design is changing this dissociative concept, as biophilia combines both indoor and outdoor living in more balanced dimensions of physical wellness and spiritual health.
This type of design is expressed as "an innovative approach that emphasizes the necessity of maintaining, enhancing and restoring the beneficial experience of nature in the built environment." This definition, from professor and author Dr. Stephen R. Kellert, describes a design tactic which stems from the term biophilia, meaning life-loving. In 1984, biologist and Harvard University professor Edward O. Wilson published his book "Biophilia" that coined the title, meaning, "the innate tendency to focus on life and the lifelike processes."
Palazzo Della Luna / Biophilic Living Wall
Within the realm of residence design, this biophilic trend is one that becoming a major dimension of high-end interior and exterior design, allowing indoor and outdoor living to become more balanced.
The approaches of many biophilic architects are to create wellness spaces that incorporate live plants, non-toxic paints, furniture made of sustainable materials, and botanical art. They may also source organic bed linens, vintage furniture, in-room air-purifiers, forest aromatherapy, and circadian lighting systems. The central principle of healthy interiors is to balance comfort with wellbeing.
Enter Palazzo Della Luna, on Fisher Island, Florida.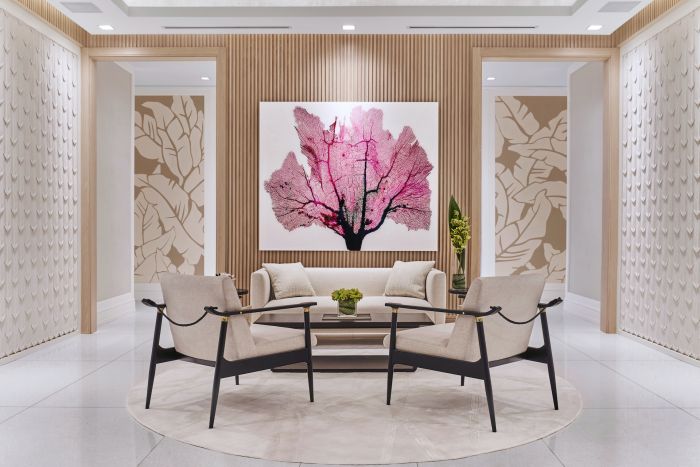 Palazzo Della Luna / South Lobby, Living Coral Image
This is a 1 billion dollar development, defining the height of luxury, on Fisher Island, America's (arguably) wealthiest zip code. The developer, Fisher Island Holdings LLC, will soon release an expanded offering of residences and limited-edition turnkey designer homes in this full-service building. This project is comprised of 50 three- to seven-bedroom residences ranging in size from 3,724 square feet to 10,194 square feet and priced from $6.5 to $40 million. And much of the interior and exterior are focused on biophilic design.
Enzo Enea, the head landscape architect, knows the concepts of biophilia quite well. He says, "Biophilic walls extend the possibilities of integrating nature into your home. At Palazzo Della Luna, the South Lobby was curated with Sky Vines, used to echo nature's beauty while walking the entrance. By weaving the vines to become one with the building, it created an innate synergy, bringing the island's tropical environment one step deeper for residents to enjoy, portraying a sense of warmth and livelihood that can best be communicated through greenery."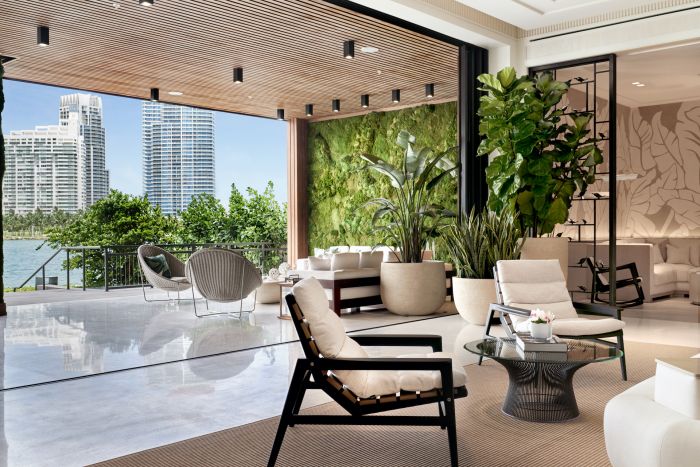 Palazzo Della Luna
Mr. Enea, also designed the shared outdoor amenity offerings: two pool terraces and a lush Central Park, connecting Palazzo Della Luna with its sister project, Palazzo Del Sol, with outdoor gardens, a regulation-size croquet lawn, bocce ball court and serenity yoga lawn. Together the buildings and their luxuriant grounds occupy 8.1 prime waterfront acres of Fisher Island –where Biscayne Bay meets the Atlantic Ocean.
Mr. Enea is but one of the international design groups that have created a unique environment, complimenting indoor and outdoor dimensions of this design type. The developer Heinrich von Hanau, adds, "from the Italian artisans to New York designers, local tradespersons and European and Latin American consultants, everyone involved with this project shares a vision for excellence."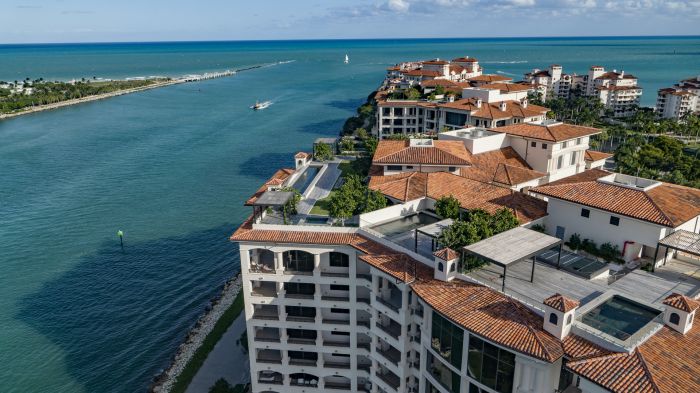 Palazzo Della Luna
One of the New York designers Mr. Von Hanau refers to is the renowned New York-based interior design firm, Champalimaud Design. Palazzo Della Luna is its first residential commission. Namesake Alexandra Champalimaud and partner Winston Kong have a global portfolio including The Beverly Hills Hotel, The Dorchester London, The Waldorf Astoria New York, Four Seasons Jakarta, St. Regis Beijing and The Peak Mount Nicholson in Hong Kong to name a few highlights. At Palazzo Della Luna, Champalimaud has curated the lobbies and indoor amenities of the building, plus two turnkey model residences.
In addition to the elegance of the biophilic design, it is a secure place also. Accessible only via the island's own auto-ferry system or private yacht, Fisher Island is secure on 216 private acres, yet located within minutes of Downtown Miami and Miami Beach.
Palazzo Della Luna is one of the few residential projects, thus far, that allows deeper connections to nature – from the biophilic walls, gardens, and the yoga lawn, all allow a greater sense of ecosystem balance, bringing the outside in and the inside out.