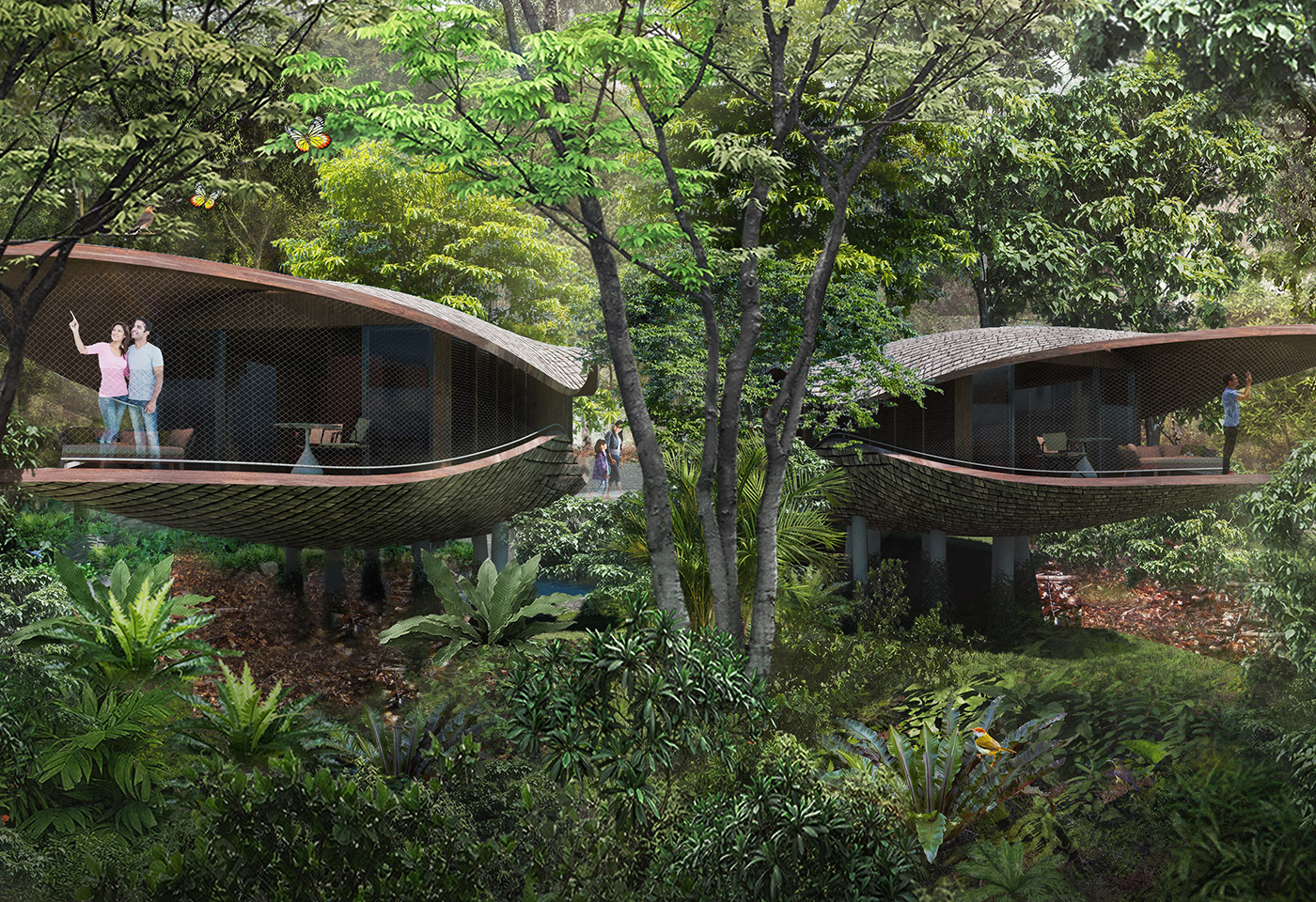 Singapore is stepping into this field by building a Super Low Energy (SLE) resort in the backyard of its National Singapore Zoo. This zone, called the Mandai Project, aims to support Singaporean flora and fauna and to eventually become a destination for nature lovers. WOW architects, in partnership with Banyan Tree Holdings Limited, is designing treehouses in the shapes of seeds. Perched above the canopy, 338 rooms will feature stunning rain forest vistas.
What is biophilic design?
How will this be made possible? By biophilic design of course. First coined by American biologist E.O. Wilson in 1984, biophilic stems from two roots: bio – relating to life, and philic – indicating appreciation for a specific thing. Biophilic design reflects direct nature, indirect nature, as well as space and place conditions. The aim is to promote creativity, wellness, and sustainability. Furthermore, biophilic design creates a symbiotic relationship with the natural environment, allowing wildlife and vegetation to weave around man-made structures.
In line with this message, the resort will preserve half the trees on site as well as plant new native tree species. From a facilities standpoint, solar panels, natural ventilation, and mixed mode air conditioning will all be anchored into place. On the guest perspective, resort guests will be invited to reduce their carbon footprint by disposing properly of food waste and consciously take part in environmental preservation through hands-on activities.
Other examples of biophilic design in Singapore
On the other side of Singapore, vines and plants climb the exterior of the Oasia Hotel Downtown. Undergoing an extensive renovation starting in 2007, the hotel opened after 9 years. At 27 stories, the hotel has made its green mark on the skyline. The exterior is constructed of red aluminum mesh shrouded in 22 species of plants, including phycus, philodendron, and thunbergia. Open space is incorporated with 40% of the structure dedicated to communal areas. 60 species cover the hotel's interior, offering a miniature habitat for insects and birds. The vegetation cools the air here as well.
It seems counter intuitive to sacrifice space for hotel rooms and lose ROI, but this was done deliberately for the well-being of the guests staying in the hotel.
Another example of hotel leading the way in biophilic design is The PARKROYAL on Pickering in Chinatown. Boasting more than 15'000 square meters in lush gardens and verdant terraces, the hotel hosts more trees than the Hong Lim Park across the street. It also carries the World Travel Award for World's Leading Green City Hotel in 2018 and was featured in Forbes' Magazine "Hotel of the Future". Hotels and resorts across Singapore are clearly leading the way in biophilic design.
How did biophilic design start in Singapore?
In the 19th century, Singapore was covered in lush jungles, but these forests were cleared away for plantations and development moving into the early 20th century.
Beginning in 1967, urban planners had a green vision for Singapore. Prime Minister Lee Kuan Yew put the Garden City master plan into effect. The aim was to create aesthetic spaces for residents and visitors alike and illustrate an efficient and committed government. From Raffles Place to Orchard Road and Marina Bay, trees and greenery are well incorporated into the landmarks.
The evolution of the biophilic city comes in 3 stages, each stage marked by several actions:
Garden City is defined by developing eco-friendly community programs, promoting environmental legislation, and developing parks and recreational spaces.
City in a Garden includes building in greenery into daily life for Singaporeans, a nature conservation plan, and community stewardship.
The Biophilic City in a Garden stage is comprised of developing world-class gardens, enriched biodiversity, and involvement of 3P (People, Public, and Private) sectors.
What's the difference between green and biophilic design?
Green design emphasizes safe, effective, and efficient use of resources while biophilic design addresses the ecosystems and ecology as a whole. As mentioned, biophilic design promotes better air quality, temperature regulation, and channeling of natural lighting. Even foods such as papaya, mulberries, and mint can be grown through biophilic design.
In the early 2000s, the Garden City Action Committee, comprised of several public agencies, pushed for the greening of high-rise buildings. The committee realized green buildings reduced utility expenses, the urban heat island effect, as well as the overall carbon footprint of Singapore. In addition, vegetation has the potential to absorb rainwater runoff from roads and walkways.
Today, hospitals, residential units, educational institutions, shopping centers, universities, and hotels are leading the way in biophilic design. For the second densest sovereign state in the world, biophilic design is alleviating the impression of congestion. Furthermore, it promotes peace of mind, patient recovery in hospitals, and improved mental health overall.
What steps can you, your hotel, or institution take to become biophilic?
Incorporate local vegetation into your property whether it be on the exterior or on the inside near guest rooms and offices.
Redesign amenities and guest offerings to reflect a smaller carbon footprint whether that means ditching plastic straws, doing away with travel-size toiletries, or modifying packaging for takeaway.
Add activities that promote the local habitat whether it be through planting trees, going on nature walks, or reducing food waste.
Hospitality Net Industry News